Podcast: Play in new window | Download | Embed
Subscribe to TECHEDTV RSS | More
What is 5G? I am currently in the process of writing a book and will be working on some ideas in my blog. My book will be called "Viva5g" and in my book I will have several series one for for "Entrepreneurs and Executives" and another series of books written into more technical depth for engineers and experts.
Where is 5G derived from? Answer: Standard Bodies
5G is what is called the fifth generation wireless communication technology or standard. The current wireless communication standard is called 4G or the fourth generation. Therefore, there was a third and a second generation, or 2G and 3G? Who wouldn't recall purchasing an iPhone 3S with 3G enabled?
All of these wireless communications generations are nothing but ways for carriers to marry or meet and match certain "terminology" to a set of standard or standards, and consumers to identify what they are getting into. Not only consumers, but investors, media, and even their own workforce. It is a bit complicated to make precise mappings, but I will try to explain it in the following paragraphs.
First, you may have seen "5GE" at the top right corner of your AT&T iPhone? If not, this picture depicts mine.
Why is it 5G now and my iPhone is a X or iPhone 11?
What happens is that behind the scenes, there is an organization called the "3GPP" or the "Third Generation Partnership Project," that establishes and deals with very complex standards. The 3GPP groups is composed of other standard bodies and all boils down to a group of companies that are 3GPP "members." This club or "members" get together in multiple committees meet with the purpose to define, literally, to define how things will work or operate into the future.
Some people may say on youtube videos that 5G is the devil and may even hint that the 3GPP is part of the "new world order" and is here to control us all, the answer is no!!! That's just fiction and conspiracy theories from youtubeers. 3GPP is just a group of companies and several other standard development organizations worldwide that have built or developed ways to improve and make things better, faster, higher-performance, and meet to agree on how to get this process done.
Let's start with 4G or the fourth generation wireless network, which we already use, or you maybe using to read in this posting.
4G corresponds to a mapping made to the 3GPP organization via a set of "Technical Specifications" has labeled as Releases 8, 9, 10, and 11, and maybe 12, and 13, whereas 5G corresponds to a set of "Technical Specifications" improved and changed that are labeled Release 15 and 16.
For example, 3GPP Release 14 includes many new concepts not found din Release 8, those are: Internet Of Things, Vehicle-to-Everything, Radio Improvements, etc, as shown in the following screen shot.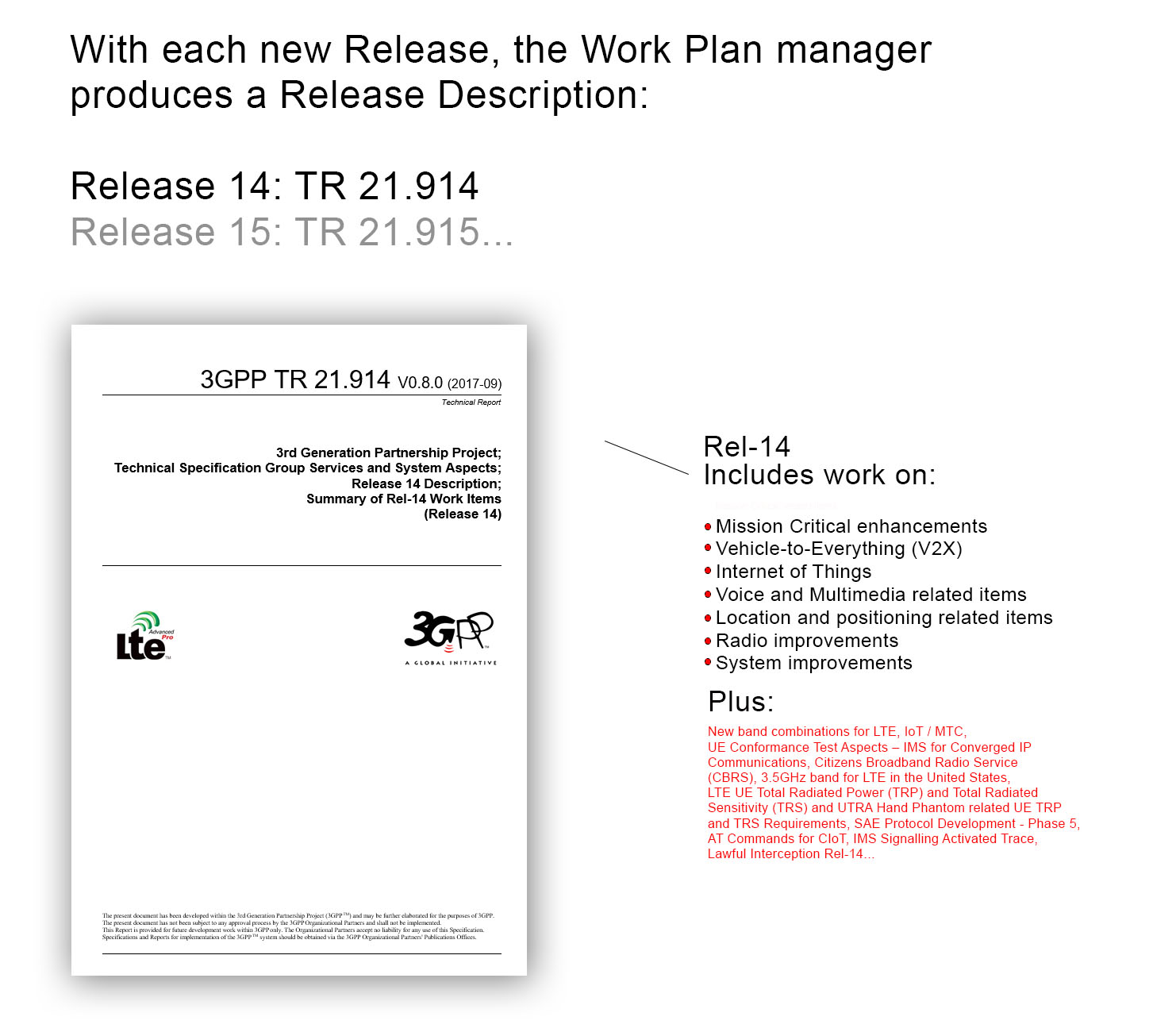 In between those release, let's sy Release 15 and Release 11, we find a gray area where 4G ends and 5G begins. In fact, many features from 5G are found in releases that are supposedly part of 4G, as well as new features for 5G appear in newer releases only,. That's is why some companies like AT&T have called this process "5GE," and presented us with a "logo" or an icon, that is shown int your iPhone's screen.
This simple icon caused Verizon to file a lawsuit to AT&?T for doing so and t is not clear what 3GPP releases AT&T refers to 5GE..
Going in to more detail, the 3GPP organization defines itself in the 3gpp.org website as follows :
The 3rd Generation Partnership Project (3GPP) unites [Seven] telecommunications standard development organizations (ARIB, ATIS, CCSA, ETSI, TSDSI, TTA, TTC), known as "Organizational Partners" and provides their members with a stable environment to produce the Reports and Specifications that define 3GPP technologies.
In fact, the communications standards created by the 3GPP cover multiple technologies for instance: Radio Access Networks (RAN), Services & Systems Aspects (SA), and Core Networks & Terminals (CT), as well as many other aspects.
3GPP is hence, as you can imagine, a complex body and I won't go into more details. In my opinion, one of the main things that are distinguished by 4G and 5G is are the core components, handover, use of frequencies, and physical layers, more importantly the "softwarezation" and the use of software-based technologies at a much higher frequency band, which leads to higher bit rates.
In essence, in today's 4G and 5G core networks a concept has been introduced and it is called, "Network Function Virtualization" or NFV, which brings the cloud to telecommunications systems together, making all the changes in software, and much less in hardware. Obviously, there are servers, CPUs, GPUs, and all that working to manage all signals, but that is multi-purpose and can be easily upgradable, as in the past, it was not.
Cloud Computing and Open Networks
As you may expect, NFV brings as a main feature, the virtualization of all network components done in multiple instances or containers, which is popularly called, the cloud.
It's easy to confuse virtualization and cloud, particularly because they both revolve around creating useful environments from abstract resources.

RedHat.com site
I agree with RedHat's comments, however, virtualization is what has made all cloud computing concepts possible, and it is clear that has come to optimize and improve 4G and hence 5G systems.
Therefore as the cloud makes its way to 4G and more to 5G, we will find new terms that were not part of telco's, one of those is "Open Network." Fir instance, "Open Mobile Evolved Core," or an open "Core" network, which is not necessarily "open source" but what that means is that APIs are used just like in any cloud-based environment, and things or components can be easily interconnected.
Therefore, under this model, all 4G and 5G network components and hence the entire 5G network runs in the cloud with servers executing multiple instances of machines or containers.
For example, there are any standardized 4G components that include Mobility Management Entity (MME), Service Gateway Control (SGW-C), Packet Gateway Control (PGW-C), Policy Charging Rules Function (PCRF), among some others, those now run as server instances.
For instance, the MME or Mobility Management Entity, is a server or cloud of servers entities that handles mobility and tracks the mobile terminal in the network, assisting the UE or User Equipment, or your mobile phone with handover and selecting the right cell to move to, as it travels around a different geographical area.
In this picture taken from the "Open Mobile Evolved Core," we cab read that all of these components may all reside in one server, and the network created is virtual, or a software-defined network.
What is then Network Function Virtualization?
In essence, Network Function Virtualization (NFV) is nothing but a way to put all these network elements or components in servers or virtual machines. These virtual machines run in standard VMWare servers or Docker Instances, and now you can introduce standard cloud computing concepts and tools like Open Stack, or Kubernettes, for what is called "Orchestration" or the process of creating and making instances.
Orchestration is the automated configuration, coordination, and management of computer systems and software. A number of tools exist for automation of server configuration and management, including Ansible, Puppet, Salt, Terraform, and AWS CloudFormation. Wikipedia
These virtual machines are the main fabric of the "cloud," the "cloud" is a set of machines or virtual machines that reside, ultimately still in datacenter and servers, somewhere, but are sufficiently operational from a "File" or an "Image" that can be copied into multiple data centers and operate without issues. These images or files are stored as "containers" or "virtual machines" that are executed in a real or hardware machine, that performs certain task.
---
Edge Computing
Another concept that has existed among  "computer science"  professionals for many decades,  is: moving computation to the "edge" of the network. It seems quite obvious, but it is not.
 Edge computing is a natural evolution to optimize processes.
Historically,  in the past,  mainframe computers controlled everything with a dumb terminal  that displayed what the mainframe processed. Later on,  the PC or a Personal Computer evolved and all control was passed down to the PC and some servers, the use of mainframes becomes less important. As progress created the internet, all moved to web and cloud. Now, the control has been passed on to the cloud or a distributed computing system governs what we do and how we do it.  Hence, the closer computation is being moved, in proximity your resources are to you, the better, lower latency, falser responses, but also causes problems for the overall system to maintain authentication, caching, and other dependencies. 
For example,  we use "Edge" computing every day, in "content delivery networks" (CDN) that are used by NETFLIX or HULU to stream movies to thousand or millions of homes.  The CDN's r main goal is to move content, music or video files, closer to your local internet link by making multiple copies available closer to the consumer or to the "edge" of a network. 
This concept is practical when all components use the same protocol, in this case IP or the Internet Protocol. The cloud, and an "ALL-IP" network architecture is found in 4G already, and subsequently is found in 5G.
Therefore edge computing is now a more formalized concept, feasible and practical.  
The major evolution from 3G to 4G is that "all" components in 4G including the core infrastructure in 4G (and obviously in 5G) runs over internet protocols or IP. This evolution is a a major distinction between UMTS, CDMA, and older systems with 4th generation wireless networks.
In 5G, IP is also the main fabric for communications, and all signaling data, voice, videos, are no longer using proprietary signaling but "IP."  In the past, UMTS or GPRS, IP was an afterthought and was emulated on top of those proprietary protocols which made the networks slow and expensive to maintain.  Obviously, challenges surfaced as 3G moved to 4G including changes in handover protocols, billing, and access to the network. 
These proprietary protocols in 2G and 3G were designed to operate "Circuit Switched Networks" and 4G is an all "IP" network designed to operate in a 100% Packet-based Network.