I've been always intrigued by my Grandfather's past…. I knew he was a sailor and later on a business man in the coffee industry. I also heard many stories about his sons and daughters, the names he picked for them, and many interesting things about him.
As a sailor, he was a part of the crew of the SS "Francis R. Hart," which in WWII was part of the US Merchant Marine Fleet. The Hart was in operation from 1938-1958 and looked like this: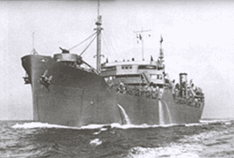 The SS Francis R. Hart and many others tankers were stationed in Honduras. Interestingly, there was a boat called "Francisco Morazan", or as they used renamed on this link to "SS Francisco Morazon" More on Francisco Morazan
In the Mindoro invasion of the Philippines, more merchant mariners lost their lives than did members of all the other Armed Services combined. Sixty-eight mariners and Armed Guard on the SS John Burke and 71 on the SS Lewis E. Dyche disappeared, along with their ammunition-laden ships as result of kamikaze attacks. The SS Francisco Morazon, also in the same convoy, fired 10 tons of ammunition defending herself. A majority of the merchant ships sunk in the Pacific were sunk by kamikaze suicide pilots.
I really don't have a diary from my grandfather but US Merchant Mariners were not fully recognized for their contribution to WWII, maybe a letter, but no monetary compensation.
My point also is that many people from Honduras, and possibly many others also contributed to US's WWII victory… their contribution is mostly unknown.
It was not until 2005 when a deeper acknowledgment was made official: "Merchant Mariners of World War II Act of 2005" or here.